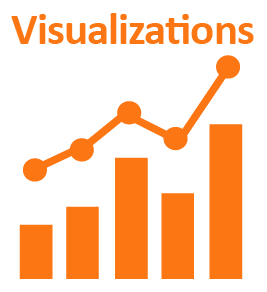 Visualizations—from graphs and charts to infographics—can be used to present data in an engaging way. They can also help simplify a complicated idea. Whether you are preparing a slide deck, a report, or a Facebook post, you will want to determine which tool to use and how to best use that tool to effectively portray your information.
Effective Data Visualization for Dissemination Webinar Resources
Data visualization expert Stephanie Evergreen presented at a CADRE-hosted webinar on March 28, 2017. See resources from the webinar.
Deciding Which Tool to Use
The Data Visualization Catalogue
A library of different information visualisation types that you can search by function.
Flow Chart Shows You What Chart to Use
Wondering what chart to use to best present your data? This flowchart can help you decide.
Junk Charts
Looking for examples of what not to do and why? See critiques of different charts.
Data Interface and Visualization Design Guidelines
A Complete Beginner's Guide to Data Visualization
This Analytics Vidhya blog gives a nice introduction to data visualization and tools you can use.
Data Visualization Checklist
Stephanie Evergreen, founder and past chair of AEA's Data Visualization and Reporting TIG, has created a guide for developing data visualizations. Download the guide.
Forum Guide to Data Visualization: A Resource for Education Agencies
This guide from the National Forum on Education Statistics recommends "data visualization practices that will help education agencies communicate data meaning in visual formats that are accessible, accurate, and actionable for a wide range of education stakeholders."
The Most Common Type of Data Visualizations & Examples
This Datalabs article focuses on 15 chart types and visualizations, and explains how to use them.
Photos
Pexels
Find free stock photos.
Pixabay
Another option for free stock photos.
Infographics
The best infographic maker in 2022
You no longer need a designer to create an infographic. This article from Creative Bloq describes free and paid tool options for creating infographics.
What is an Infographic? Examples, Templates & Design Tips
This Venngage article offers a crash course on infographics and infographic design.
Animated GIFs
A Guide to Animated GIFs in Email
This guide from Litmus Software, Inc., explains what GIFs are, how you can use them, and how you can create them.
The Ultimate Guide to Using Animated GIFs in Your Marketing
Wondering what an animated GIF is? Why you would ever use one to promote your project work? This HubSpot article gives a nice overview of the uses of animated GIFs.