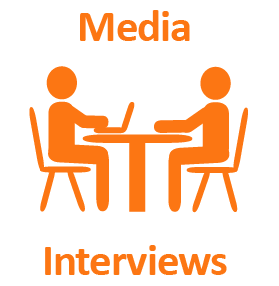 Have you ever fielded a call from a journalist asking for an interview about your work? Was the resulting article and quote(s) what you expected? To make the most of your next opportunity, here are a few tips for when you are the interviewee.
1. Tell the journalist you will call back.
Never take a call "on the fly." Give yourself time to prepare for the interview. Also, if applicable, give yourself time to reach out to your institution's media relations or communications department to notify them and get their input. Many universities have these departments and require researchers to keep them apprised of interviews with the media.
2. Do your research.
Who is the journalist? Who do they write for? What slant does the newspaper, magazine, or blog tend to have? Ask them what their article is about and who else they are speaking with. Will they send you the questions ahead of time? 
3. Prepare & practice.
Based on your knowledge or research, come up with a list of three or four main points you want to make during the interview. Practice saying these out loud to practice your answers.
4. Listen for the "storyline." 
During the interview, listen for the storyline the journalist is pushing for. This is often revealed through the questions they ask, what they follow up about, and if they feed you quotes (e.g., "would you say...?"). Beware that journalists may only include the parts of the interview that support that story. Understanding the storyline can help you frame your comments.
5. Ask to see a draft.
Even the best-intentioned journalist might misquote something or incorrectly describe a project or its partners. Tell the journalist that due to funders' requirements, you need to see the story before it is published. Give them your cell phone number, and tell them you will be available whenever they need you.
6. Maintain a good relationship.
Be friendly and open during the interview. Thank the journalist for contacting you (at the end of the interview and also when the article is published). Volunteer as a source for future stories, and offer to reach out in the future if you think your work is of interest to the journalist.
Helpful Resources