Dear Colleagues,
This month we are featuring DRK-12 projects with a focus on STEM pathways. Though there may not be consensus of what constitutes a STEM job, we might all agree that educational experiences are a critical factor in providing access to and removing roadblocks from the pursuit of STEM careers (including the skilled technical workforce) or the use of STEM skills in other occupations. Read a perspective piece on this topic by Jeff Weld, executive director, Iowa Governor's STEM Advisory Council and former senior policy advisor, White House Office of Science & Technology Policy. 
The NSF DRK-12 proposal submission deadline has been postponed to November 18, 2019. Please share this information with your colleagues and associates. If you are planning to submit a proposal, CADRE's NSF Proposal Toolkit offers a compilation of helpful resources.
As a reminder, join your colleagues tonight at 9 PM ET for an #NSTAchat on technology-enhanced assessment. CADRE is also curating and featuring practitioner-oriented DRK-12 products on Pinterest. Details below!
Finally, we have a few hellos and a good-bye. We welcome new NSF program directors and rotators who have been part of the DRK-12 community: Monica Cardella, Beth Herbel-Eisenmann, and Sharon Lynch. After 16 years, MSPnet is sunsetting, but you can still access an extensive library of archived resources on the site.
Sincerely,
---
Spotlight on STEM Pathways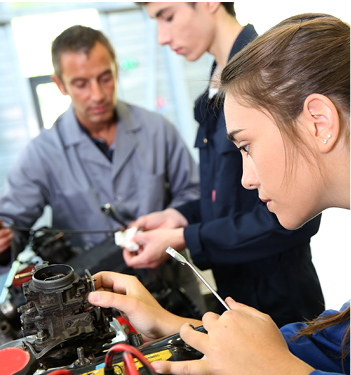 According to the NCSES 2019 report on Women, Minorities, and Persons with Disabilities in Science and Engineering, there are still significant gaps in representation in science and engineering. How do we broaden STEM opportunities so that all students get access to STEM skills and learn about possible STEM career paths? 
In this Spotlight, Jeff Weld reflects on the importance and power of teaching towards workforce development, laying out key approaches from a new Federal strategic plan. In addition, three DRK-12 projects discuss how they are researching and innovating pathways that allow and encourage all students to pursue continued study or careers in STEM.   
In this Spotlight
---
Measuring Program Implementation Webinars

Why is it important to know how well a program was implemented? How do you know whether a program was implemented as designed? For answers to these questions and more, join Dr. Chris Hulleman for two upcoming DRK-12 research methods webinars hosted by AIR:
Measuring Program Implementation | October 1, 2019 | 12-1:15 PM ET
Discuss logic model development and use of systematic measurement approaches to examine program implementation, the merits and limitations of different methods, and tools and resources for developing and refining implementation measurement plans.
Developing a Program Implementation Measurement Framework | October 10, 2019 | 12-1:15 PM ET
Discuss development of implementation measurement frameworks, practical considerations (e.g. reporting burden and availability and quality of data), and participants' own experiences and challenges with measuring program implementation.
---
CADREK12 Now on Pinterest

CADRE has a new Pinterest page featuring DRK-12 products designed for educators, students, and/or the public. Current boards include: 
We welcome ideas for new boards! If you have a product you would like to include in current or future Pinterest boards, email cadre@edc.org. Follow our page to see new posts.
---

Project Tip
Before you develop a new instrument, see what's already in use. Explore these repositories of measurement tools, and view CADRE's Compendia of Instruments (for students or for teachers). 
---
Newsbites from NSF, DRK-12, and NSF Networks
News from NSF
---
News from DRK–12 Projects & Awardees
Email cadre@edc.org to share news from your project.
---
News from NSF Networks
See our Upcoming CADRE & NSF Network Events page for ATECentral, CIRCL, CAISE, CS for All Teachers, EvaluATE, NSF INCLUDES National Network or STELAR events that may be of interest to you.

---
Upcoming Opportunities
The following funding and publication opportunities, listed by deadline, may be of interest to you and your DRK-12 project members. 
Publications
Job Openings
Opportunities
---
In Case You Missed It
Highlights from recent newsletters and announcements: